I don't confess my sins to a priest because I am saved!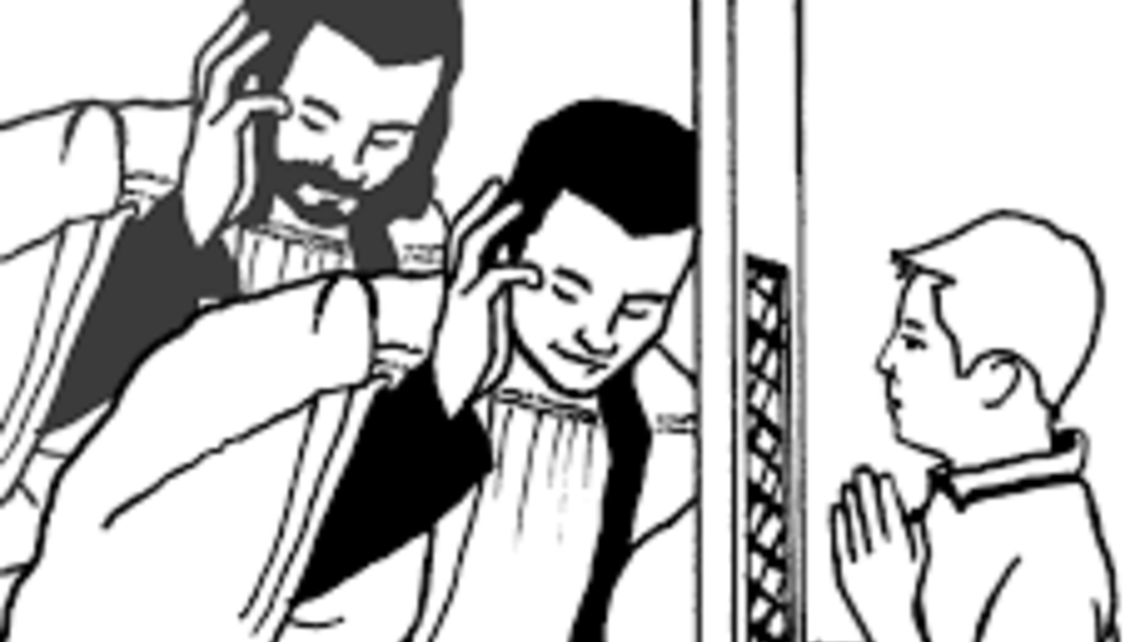 QUESTION?
Besides confession, is there a special place I can go where I can talk to God alone and confess my sins without going to the priest? 
ANSWER!
Read Matthew 6:6.
When a protestant says: "I'm saved" they mean I have said "the sinners prayer", I have accepted Jesus Christ as my personal Lord and Savior and therefore all my sins are forgiven - past, present and future.
Catholic response:
The invitation to accept Jesus as one's personal Savior has a specific meaning in certain Protestant circles. For them, accepting Jesus as Savior is how one becomes a Christian (ie. being born again). At this point they consider themselves "saved" and this holds despite any future sins they may commit. As Catholics that process of salvation begins at baptism, continues by the way we live, and is complete only when we are judged at the end of our lives. We believe that it is through baptism the we become members of the body of  Christ. While we don't have an altar call, as they refer to it, the Mass is full of invitations. For example, just before the preface, the priest invites the people to "Lift up your hearts," adding, "Let us give thanks to the Lord our God." At one point he takes the sacred host in his hands and says: "This is the lamb of God who takes away the sins of the world. Happy are those who are called to his supper." Talk about invitations! Communion itself is an invitation to receive the whole Christ, not  just into our hearts but into our whole being, body and soul. There is nothing on the face of the earth that can equal this. Unfortunately, so many Catholics are ignorant of what they have. This is the real biblical historical altar call that was given to us by our Lord and Savior Jesus Christ. The Protestant version of 'ALTAR CALLS' were unheard of until Protestant preacher 'Charles Finney' introduced them in the 19th century. He lived from 1792 to 1875. Catholic altar calls go back to 33 ad., instituted at the 'Last Supper.' The earliest notion of sinners prayer is less than 500 years old. It wasn't formalized as a theology until around the time of Billy Graham in the 1950's (http://www.bible.ca/g-sinners-prayer.htm).
A Catholic can therefore answer, "I have been saved when I was united to Christ in baptism, I pray that I might now be in God's grace so that I am being saved through ongoing cooperation with the inner working of the Holy Spirit ('faith working through love'), and I hope to remain in God's grace to the end and ultimately be saved."  This might seem complicated for some, but sacred scripture calls us to this process, stating; 'work out your own salvation with fear and trembling; for God is at work in you…'
It is important to note that the process of Salvation is a result of God's grace from beginning to end, and even though our cooperation is required in the process, even this cooperation would not be possible without the grace of God which 'prepares, elicits, and enables man's free response' according to the Catechism (pg. 2022).
...Salvation as past event: I have been saved
Romans 8:24: "For in this hope we were saved."
Ephesians 2:8-9: "For by grace you have been saved through faith; and this is not your own doing, it is the gift of God not because of works, lest any man should boast."
2 Timothy 1:9: "[God]…who saved us and called us with a holy calling, not in virtue of our works but in virtue of his own purpose and the grace which he gave us in Christ Jesus ages ago,"
Titus 3:5: "he saved us, not because of deeds done by us in righteousness, but in virtue of his own mercy, by the washing of regeneration and renewal in the Holy Spirit,"
…Salvation as a present event: I am being saved
Philippians 2:12-13: "…work out your own salvation with fear and trembling; for God is at work in you, both to will and to work for his good pleasure."
1 Peter 1:8-9: "Though you do not now see him, you believe in him and rejoice with joy that is inexpressible and filled with glory, obtaining the outcome of your faith, the salvation of your souls."
Acts 2 :47:  "And the Lord added to their number day by day those who were being saved."
…Salvation as a future event: I hope to be saved
Matthew 10:22: "and you will be hated by all for my name's sake. But he who endures to the end will be saved."
Matthew 24:12-13: "And because wickedness is multiplied, most men's love will grow cold.  But he who endures to the end will be saved."
1 Peter 2:2: "Rid yourselves, therefore, of all malice, and all guile, insincerity, envy, and all slander.  Like newborn infants, long for the pure, spiritual milk, so that by it you may grow into salvation—if indeed you have tasted that the Lord is good."
Acts 15:11: "But we believe that we shall be saved through the grace of the Lord Jesus, just as they will."
Romans 5:9-10:  "Since, therefore, we are now justified by his blood, much more shall we be saved by him from the wrath of God."
Romans 13:11: "For salvation is nearer to us now than when we first believed…"
1 Corinthians 3:15:  "If any man's work is burned up, he will suffer loss, though he himself will be saved, but only as through fire."
1 Corinthians 5:5:  "you are to deliver this man to Satan for the destruction of the flesh, that his spirit may be saved in the day of the Lord Jesus."
Hebrews 9:28:  "so Christ, having been offered once to bear the sins of many, will appear a second time, not to deal with sin but to save those who are eagerly waiting for him."
1 Peter 1:5: "[you] who by God's power are guarded through faith for a salvation ready to be revealed in the last time."
2 Peter 1:10-11: "Therefore, brethren, be the more zealous to confirm your call and election, for if you do this you will never fall; so there will be richly provided for you an entrance into the eternal kingdom of our Lord and Savior Jesus Christ."
…We are to wait for God's judgment, not judge ourselves or others prematurely:
1 Corinthians 4:3-5:   "But with me it is a very small thing that I should be judged by you or by any human court. I do not even judge myself.  I am not aware of anything against myself, but I am not thereby acquitted. It is the Lord who judges me.  Therefore do not pronounce judgment before the time, before the Lord comes