COME JOIN ME AND ANITA IN POLAND ON MAY 13 - 22, 2020
JESSE & ANITA INVITE YOU!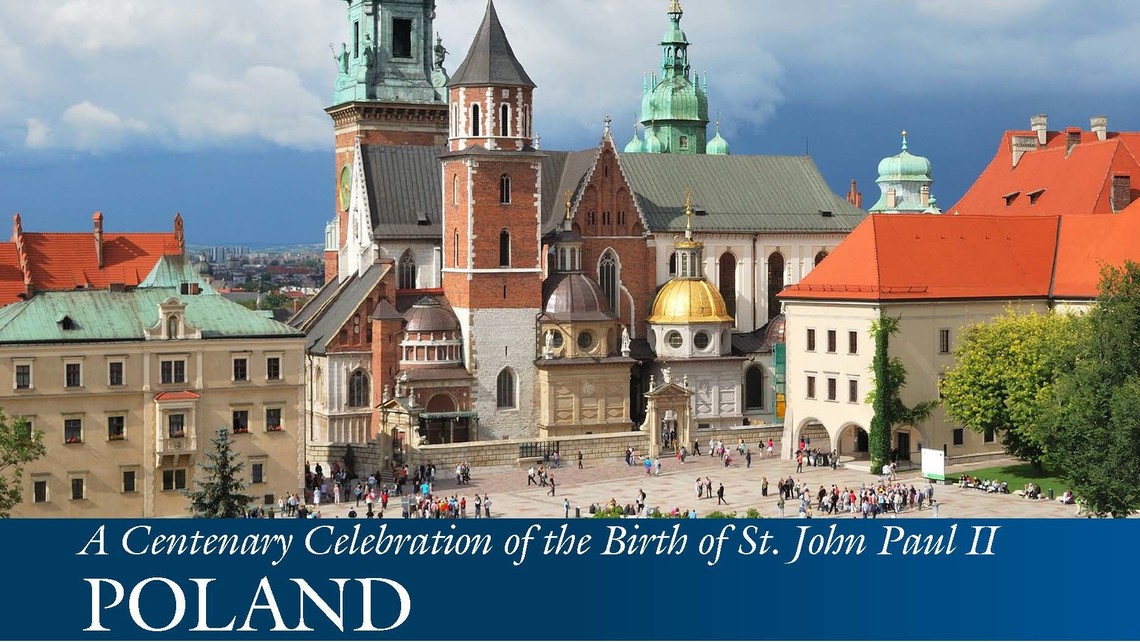 Come with me and Anita to Poland. This is the land which has given us some of the most incredible saints in the 20th century – St Faustina, St Maximilian Kolbe, Blessed Edith Stein, St John Paul II. Poland is the most Catholic country in Europe, dare I say, it is the most Catholic country in the world. I have posted some articles below which have compelled us (Anita and me) to take a pilgrimage to Poland. Lets pray at the tomb of all these saints for the purification of our Church, our families and our own purification The Latin Mass will be offered every morning by our Priest chaplain.
Poland Declares Christ as King - http://www.worldreligionnews.com/religion-news/poland-declares-christ-as...
Aug 27, 2017 · This September marks 300 years since the image of Our Lady of Czestochowa was crowned Queen and Protector of Poland by Clement XI. Nearly 200 years after that, in 1909, the golden, bejeweled crowns of the image – one for Mary and one for the Christ Child – were stolen, along with a pearl "robe" also belonging to the image  -https://angelusnews.com/news/catholic-news-agency/our-lady-of-czestochow...
Poland's prime minister wants a total ban on abortion without exception - http://www.churchmilitant.com/news/article/poland-no-abortionsno-exceptions
Poland's bishops denounce Soros-funded campaign against Church over
homosexuality - https://www.lifesitenews.com/news/polish-activists-publications-push-chu...
This is cool. The Prime Minister of Poland's son was just ordained a priest! Saint John Paul II is surely smiling. http://cvote.it/2qAu8mI
Poland to Muslims: " Here, Jesus is our King so get out - https://www.youtube.com/watch?v=C_BjPy19bYs
A Million Christians to Pray Rosary on Poland's Border Commemorating Historical Defeat of Islam - http://www.breitbart.com/london/2017/09/27/million-christians-pray-rosar...
Polish prime minister: 'There can be no strong Poland without strong families' HTTPS://WWW.CHURCHMILITANT.COM/NEWS/ARTICLE/POLISH-PRIME-MINISTER-CELEBRATES-LARGE-FAMILIES
Poland's president wants 'Fort Trump' military base to deter Russia - https://www.washingtonexaminer.com/news/white-house/polands-president-wa...
How Poland is Winning the Modern Age: And America Can Too by Carly Hoilman on December 1, 2017 - https://www.catholicvote.org/how-poland-is-winning-the-modern-age-and-am...' on Sundays.
POLAND // President Trump gave, by all measures, an outstanding speech in Poland. His speech made note of the Poles who fought for American independence, and he also made a reference to Pope John Paul's historic visit back to Poland in 1979. Trump praised Poland for its commitment to fighting terrorism and upholding the values of Western Civilization. Trump said: "Just as Poland could not be broken, I declare today for the world to hear that the West will never, ever be broken. Our values will prevail. Our people will thrive. And our civilization will triumph." http://cvote.it/2sTfqZq
Catholic Martyrs of the Holocaust (Poland front & center of the persecution) 11/1/2008 https://www.catholic.com/magazine/print-edition/catholic-martyrs-of-the-...
Here is the link for the pilgrimage company and information:
1. Click on this link: https://gp.myfaithjourneys.com/login.asp
2. Look for the box that says "Group Number
3. Type in this number "20031"
4. Then click on Brochure - Poland - Jesse Romero Pilgrimage.pdf
This gives you the itinerary, registration form & costs.