Am I Saved as a Catholic?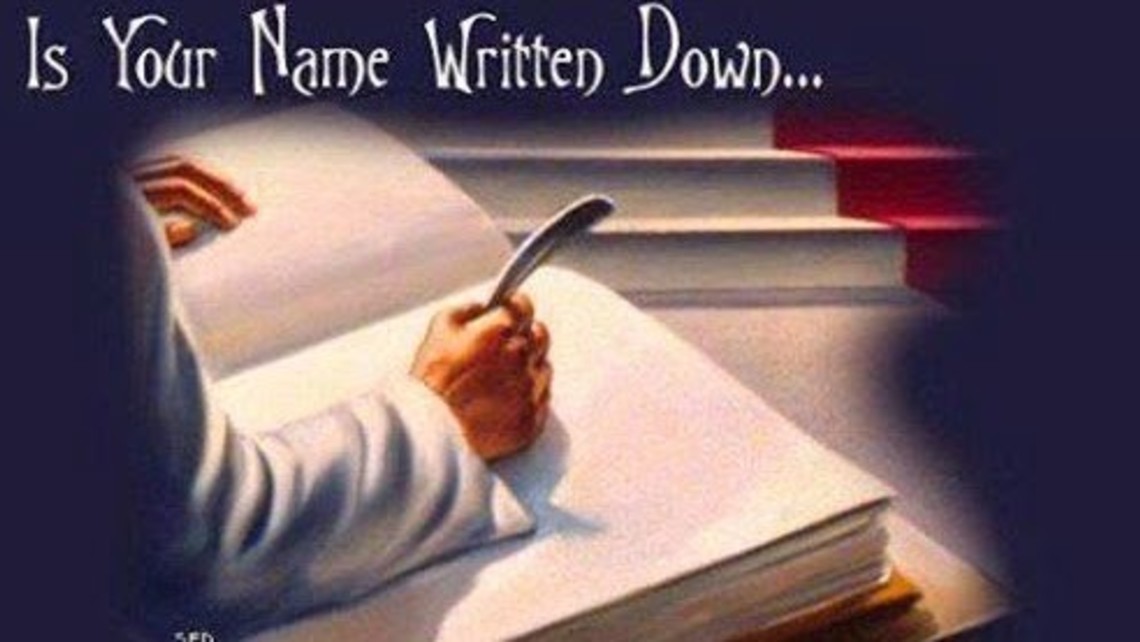 QUESTION?                                                                                         
I used to be in Calvary Chapel. So as a born-again Christian,  we would believe in that also once we got saved, our names would be found in the book of life. As Catholic Christians,  do we still believe in this? Or was that just a Protestant belief only? Thanks in advance. 
ANSWER!
NAMES ARE WRITTEN IN THE BOOK OF LIFE
Revelation 20:15 "and if anyone's name was not found written in the book of life, he was thrown into the lake of fire."
Revelation 21: 27 "But nothing unclean shall enter it, nor anyone who practices abominations or falsehood, but only those who are written in the Lamb's book of life."
Philippians 4: 3 – "And I ask you also, true yokefellow, help these women, for they have labored side by side with me in the gospel together with Clement and the rest of my fellow workers, whose names are in the book of life."
Isaiah 48:17-19 - Thus says the LORD, your redeemer, the Holy One of Israel: I, the LORD, your God, teach you what is for your good, and lead you on the way you should go.If you would hearken to my commandments, your prosperity would be like a river, and your vindication like the waves of the sea; Your descendants would be like the sand, and those born of your stock like its grains, Their name never cut off or blotted out from my presence. (Conditional – If you obey commandments).
NAMES CAN BE BLOTTED OUT OF THE BOOK OF LIFE
Rev 3: 5 – "He who conquers shall be clad thus in white garments, and I will not blot his name out of the book of life; I will confess his name before my Father and before the angels."
Psalm 69: 28 – "Let them be blotted out of the book of the living; let them not be enrolled among the righteous."
Exodus 32: 33 – "But the Lord said to Moses, 'Whoever has sinned against me, him will I blot out of my book."
Deut 9:14 – "Let them alone, that I may destroy them and blot out their name from under heaven". . . 29: 18- Beware lest there be among you a man or woman or family or tribe, whose heart turns away this day from the Lord our God to go and serve the gods of those nations; lest their be among you a root bearing poisonous and bitter fruit, 19 one who, when he hears the words of this sworn covenant, blesses himself in his heart, saying, 'I shall be safe, though I walk in the stubbornness of my heart. . . 20 The Lord would not pardon him, but rather the anger of the Lord and his jealousy would smoke against that man, and the curses written in this book would settle upon him, and the Lord would blot out his name from under heaven." ].
AMALEKITES (SWORN ENEMIES OF ISRAEL) WERE NOT SAVED BY GOD, RATHER, THEY WERE BLOTTED OUT
Exodus 17: 14 – "And the Lord said to Moses, 'Write this as a memorial in a book and recite it in the ears of Joshua, that I will utterly blot out the remembrance of the Amalek from under heaven."
Deut 25: 19 – "Therefore when the Lord you God has given you rest from all your enemies round about, in the land which the Lord your God gives you for an inheritance to possess, you shall blot out the remembrance of Amalek from under heaven; you shall not forget"